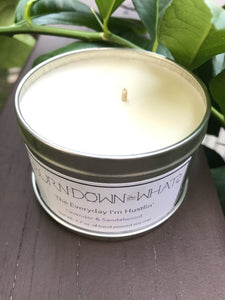 The Everyday I'm Hustlin' 7.7oz
Regular price $12.00 Sale
Burn Down For What stands on its own as one of the last remaining candle companies that actually makes candles.  Unapologetically real scents used in real situations, with real people to aid in having a really good time. 
Beyond smelling good, BDFW is a woman-owned, small business based out of Richmond, Virginia.  Each candle is handmade, hand poured and hand (well nose) tested.  
Lavender & Sandalwood
When to burn: After a long day running at 110%, 150% of the time.
Where to burn: The closest comfortable surface, whether that be the floor or your coffee table that doubles as a desk and dinner table. 
My two scents: "This was the first scent I ever created. It's agreeable, the perfect present and works everywhere, every day."